exploring taiwan with loci amica
After spending two months back home in Singapore, we decided to spend five days in Taiwan before returning to Vancouver as a mini birthday celebration for the both of us. We arrived in Taipei on a hot July day, and while the weather continued to be a scorcher, we had fun exploring the busy city and its surroundings.
One of the biggest takeaways I had on this trip is that five days is wayyyy too short to properly dive into everything that Taiwan has to offer.
Another big takeaway: Having a local guide helped us experience Taiwan on a whole new level.
V and I are not too fond of joining large tour groups with a jam-packed itinerary, often with stops that you wish weren't included. I'm a spontaneous kind of traveller, the kind that make loosely-held plans and are always open to change. Plus, joining a tour - or having a tour guide - didn't seem very necessary in a well-developed city like Taipei (the bus rides were ridiculously cheap and convenient!). But because it was my first time in Taiwan and I didn't want to miss out on visiting popular (albeit touristy) sites like Yehliu Geopark and Jiufen, we enlisted Loci Amica's help.
the friendly locals
Sam and Frieda, the founders of Loci Amica, created the platform to connect travellers with local tour guides in Taiwan. It offers you the opportunity to tailor a tour that meets your needs and interests, and meet with locals who have insider knowledge on what to eat and where to go.
Sam and Frieda put me in touch with Daphne, a Taiwanese tour guide, a few weeks before my visit to Taipei. After sharing some of the destinations I wanted to visit on a day trip out of Taipei with Daphne, she cautioned that it would be rather tiring as it would require a lot of walking. The list was then whittled down to four must-visit hotspots, and we arranged for Daphne to pick us up at our hotel in Ximending in the morning.
Check out the places we visited and what we enjoyed about having a Loci Amica* guide with us!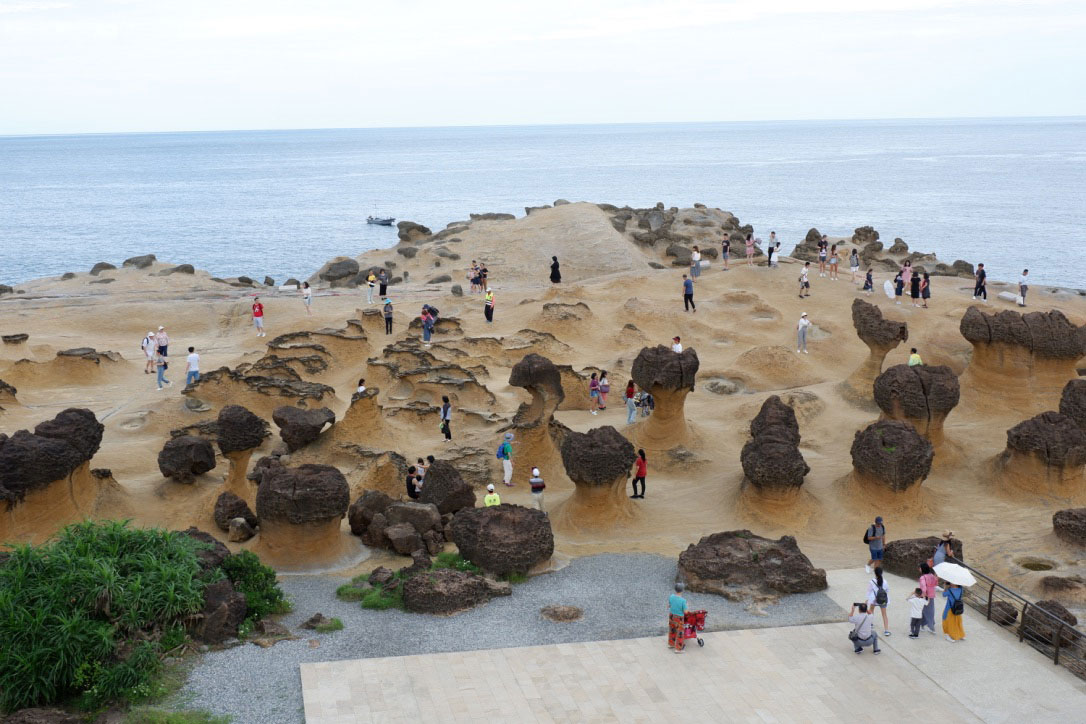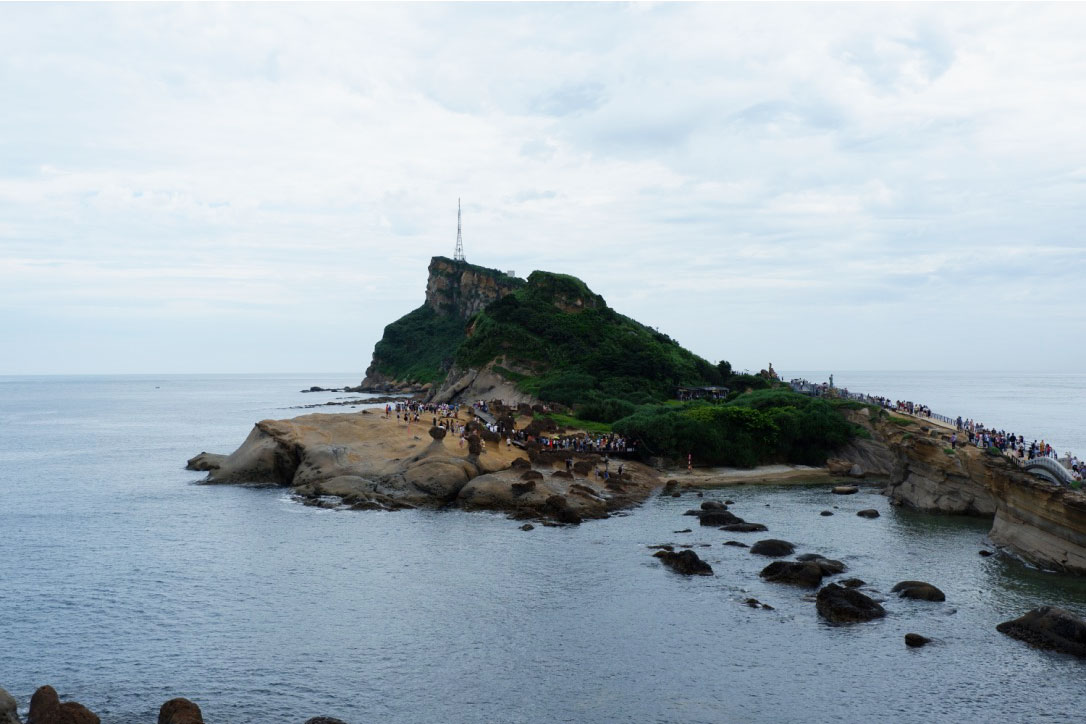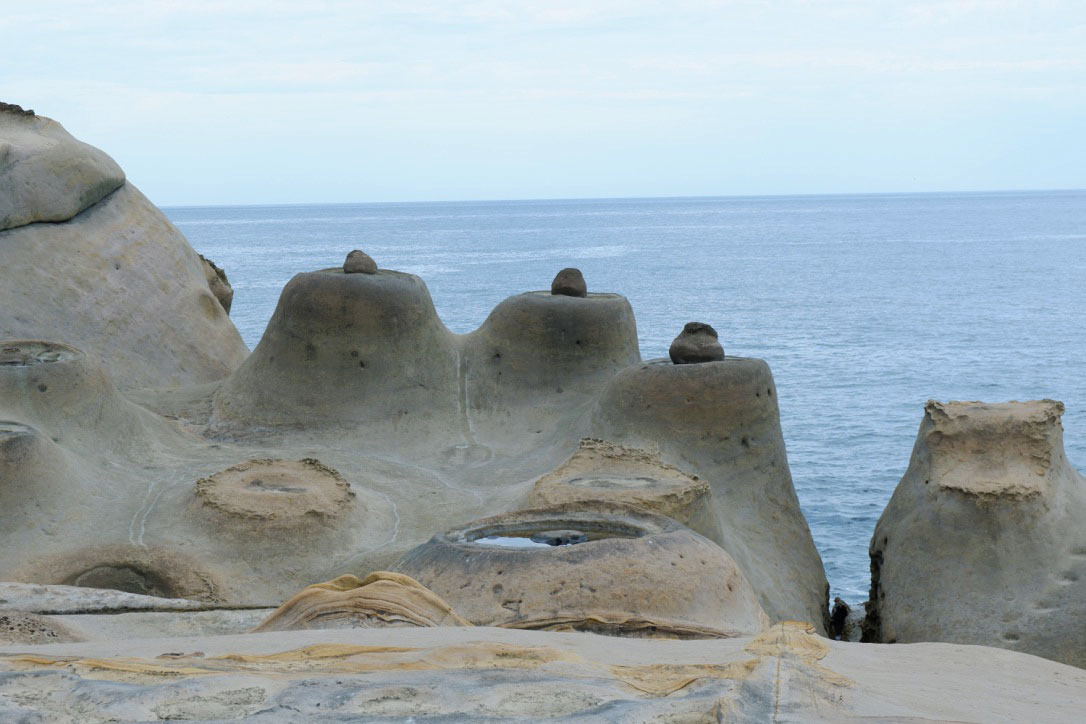 Our first stop of the day was the Yehliu Geopark, approximately an hour's drive from Ximending. The park is full of intriguing rock formations with amusing names like mushroom rock and tofu rock. There are also ones shaped like candles and a slipper, as well as its most famous attraction, Queen's Head, which supposedly resembles Queen Elizabeth's side profile.
Daphne expertly led us to view many of them, and helped us to avoid the long line-up for a photo at the Queen's Head by showing us around to its other side.
I thoroughly enjoyed learning more about these fascinating rocks, spotting ancient fossils embedded in the dusty sand, and marvelling at the area's alien-looking landscape. What's more, just being close to the water (and out of the city's crowded shopping streets) was a treat in itselt.
One handy tip you should know before you go: There is barely any shade available here, so umbrellas are highly recommended if you don't want to get sun-burnt or suffer heat damage like we did!
After spending some 45 minutes at Yehliu Geopark, we were starting to get rather hungry. Daphne drove us to our next stop - Jiufen (九份) - which was roughly an hour away. The charming mountain town became famous after gold was discovered during the Japanese occupation, and gold mining was once its biggest trade. It's a touristy place, to be sure, but still worth a visit especially if it's your first time in Taiwan.
Fans of Hazao Miyazaki's Spirited Away will be thrilled to spot the iconic A-mei Tea House with its flashy red lanterns and gorgeous wood-panelled windows. Street food fiends, too, will be spoiled for choice with tons of stalls along Jiufen's narrow, winding alleyways. We tried handmade fishballs and lu rou fan (卤肉饭); some fried squid; and an iced taro ball dessert from A Gan Yi (the best one in Jiufen according to Daphne, and we fully agree!).
For first-time visitors to Asia, Jiufen's complicated layout might be rather overwhelming; for non-locals with a bad sense of direction like myself, navigating would've been a nightmare. Thankfully, we had Daphne to guide us and bring us to the places we wanted to check out.
After lunch at Jiufen, Daphne brought us to Shifen Waterfall, a 40-minute drive away and easily one of my favourite stops of the day.
The waterfall is super easy to get to - just cross a short, creaky suspension bridge, walk past a few shops, and you'll reach a pretty spacious viewing area for the waterfall, which is 20 metres high and 40 metres wide. On your way back to the carpark, there's another viewing spot which offers a close-up look at this majestic beauty. Just be prepared to jostle with a ton of other eager tourists for that million-dollar shot.
While many tourists stop by the town of Shifen to experience the Taiwanese tradition of releasing paper lanterns into the sky, Daphne advised us that it was the little nondescript town of Pingxi where this practice originated from. Hence, we skipped out on visiting Shifen and headed to Pingxi, which was about 15 minutes away from the waterfall by car.
I would highly recommend Pingxi if you have crowd fatigue, especially after going to Jiufen. The streets were way less crowded and it made exploring a lot more relaxed. We spent a fair bit of time at the train tracks watching people release their paper lanterns, on which wishes and hopes were written, into the sky. Fun fact: Those train tracks are still in operation today, and I would strongly advise against taking a photo when the train is bearing down on you :p
To cap the day's activities off, Daphne treated us to a local delicacy called "Big Sausage Wrap Small Sausage" (Da Chang Bao Xiao Chang / 大腸包小腸), comprising a glutinous rice sausage wrapped around a Taiwanese pork sausage. I found it a tad oily, but my husband polished it off in minutes.
By this time, it was evening, and Daphne drove us right back to our hotel in Ximending, where we could finally rest our tired feet!
my overall experience with loci amica
In all, I thought Daphne did a brilliant job as our Loci Amica guide. She didn't rush us or promote certain activities or stores over others (which often comes across as pushy), but let us take the tour at our own pace while pointing out things of interest. I was in desperate need of coffee at one point, and she immediately brought us to a coffee shop in Jiufen where I could get some caffeine into my system.
I also liked having the freedom and choice to decide on our itinerary for the day, rather than subjecting ourselves to standard pick-up and drop-off times on a typical bus tour or rushing to take public transit. Daphne did advise, however, that this tour is usually broken up into two days so there's much less walking involved.
It was also fun for us to gain a local's perspective on life in Taiwan and get tips on where to eat and shop. The Taiwanese are friendly people, but since my Mandarin isn't that great, I was immensely grateful that Daphne could converse in English.
If you're considering a day trip out of Taipei and/or wondering if you should hire a tour guide, my answer is a resounding yes! Loci Amica also offers tours of Taichung, Tainan and Kaohsiung, and I think having a local's insider info in these destinations would be so helpful.
Thanks for sticking around to read this, and if you have any other questions about my experience, feel free to leave a comment below or email me at izzabelle.ong@gmail.com!
*This tour was gifted by Loci Amica. All thoughts and experiences in this blog post are my own.
pin for later!